When The Forest Ran Red: Washington, Braddock, A Doomed Army (DVD, 2004)

| | | |
| --- | --- | --- |
| Condition: | Brand New | |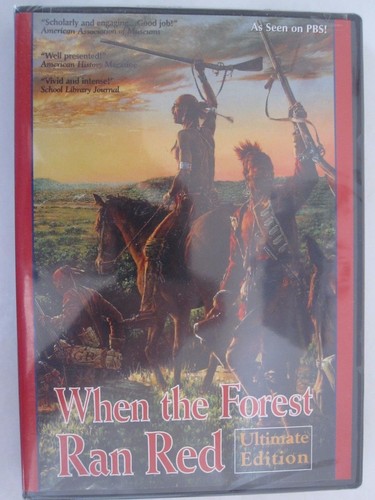 | | | |
| --- | --- | --- |
| | Description | |
In 1753, global superpowers England and France each claim the Ohio Country of America. The English establish settlements, and the French build a line of forts from the Great Lakes southward. Into this unstable setting steps 21-year-old George Washington, an ambitious youth. Within months Washington touches off a war that soon goes global, and leads troops to face the French. His first campaign ends in defeat, but prompts King George II to send two regiments of redcoated regulars to the Ohio Country under the command of Gen. Edward Braddock of the Coldstream Guards. The historic march of Braddock's army culminates in a brutal forest battle recreated moment by moment in this highly acclaimed documentary.

When the Forest Runs Red uses the narration of award-winning actor Michael Rothhaar, large-scale battle reenactments, and the commentary of an international roster of acclaimed authors to tell the story of Washington's mission to the French forts, the Great Meadows campaign, and Braddock's Defeat.

The DVD contains almost two hours of extras, including the completely remastered When the Forest Ran Red feature documentary, which has been broadcast on PBS, honored by the American Association of Museums, and recognized by the Smithsonian Institution.
Format: Multiple Formats, Closed-captioned, Color, NTSC
Language: English
Region: Region 1 U.S. and Canada 
Number of discs: 1
Rated: 
 NR 
 Not Rated
Studio: Paladin Communications
DVD Release Date: April 16, 2004
Run Time: 68 minutes