Painting Miniatures from A to Z - Angel Giraldez Masterclass Vol 1 with Figure

| | | |
| --- | --- | --- |
| Condition: | New | |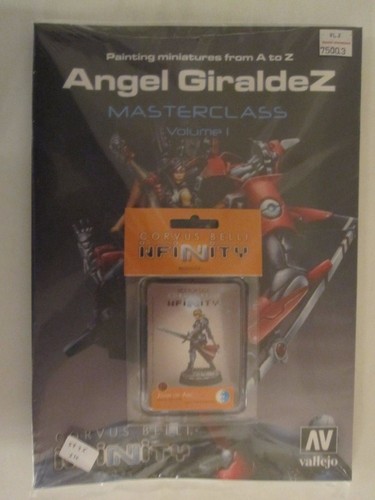 | | | |
| --- | --- | --- |
| | Description | |
Painting Miniatures from A to Z - Angel Giraldez Masterclass Vol 1
This book comes with a 28mm figure from Corvus Belli
We are proud to present Angel Giraldezs first painting manual, Painting Miniatures from A to Z, Angel Giraldez Masterclass Volume 1. This book is a demonstration of the painting methods that, over the years, have helped Angel bring Infinitys miniature range to life. 
Angel has matured as an artist within Corvus Belli, and his tireless work has earned him a place among the foremost professional miniature painters in the world. 
This manual describes, in meticulously detailed step-by-step tutorials accompanied by hundreds of full-color pictures, how to apply Angels techniques to some of the most outstanding miniatures of the Infinity range. 
Number of pages: 120 
Format: A4 
Cover: Paperback 
Language: English 
Developed by ALEPH under the auspices of PanOceania, the Joan of Arc Recreation Project aimed to create a military leader capable of inspiring modern troops through the worst of the fight. She was given tactical capabilities, and was subjected to extensive military-religious training inspired by the methods of the PanOceanian Military Orders. Now, Joan is a living legend, and having served with her is a source of pride across the entirety of the PanOceanian army.