DVD: The Germans in Normandy - 12th Hitlerjugend Panzer Division

| | | |
| --- | --- | --- |
| Condition: | Brand New | |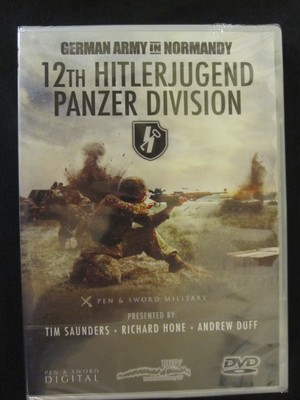 | | | |
| --- | --- | --- |
| | Description | |
The Germans in Normandy - 12th Hitlerjugend Panzer Division
5060247620848, DVD NTSC, Pen and Sword Digital
The most implacable opponents of the British and Canadians fighting in Normandy were the largely teenage soldiers of the Hitlerjugend. From D+1 through to attacking back into the Falaise Pocket, this unique division constantly thwarted Montgomery's plans and exacted a terrible price on the Allies for every mile gained.
Formed from 'volunteers' from the Hitler Youth Movement in the aftermath of Stalingrad, this division of boys, aged 17 on recruitment into the SS, came of age and were declared fully operational just before D Day. Coming from a fully militarized society they made exceptional and highly committed soldiers but with officers and non-commissioned officers from the Leibstandarte commanding them, they were to become a ruthless and brutal arm of the Nazi fighting machine that battled towards the Eastern Front. Both Hitlerjugend's alleged atrocities and their remarkable doggedness in battle made them a loathed but grudgingly respected opponent to all who fought them.
In this DVD, we hear from the last surviving senior German officer, Obersturmbannführer Hubert Meyer, now in his late nineties, as he explains his role as a commander of the Hitler Youth, giving a rare insight into the German perspective of the Normandy campaign.
12th Hitlerjugend Panzer Division continues the successful BHTV style of location shooting on the fields and villages where the fighting originally took place, as well as SS re-enactment footage to illustrate the various battle scenarios. The DVD is further complimented by a wealth of original archive footage and in-depth explanations of the weapons and machinery used during the period, making this compulsive viewing for all Second World War enthusiasts.